30 years of friendship between the allotment garden federations from the region of Poznan (P) and Westphalia-Lippe (D)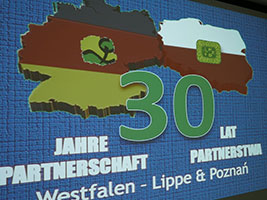 On August 19th 1987 the presidents of the German and Polish allotment garden federations signed a friendship treaty. Already some weeks later, from 20th until 26th September 1987, the historical meeting between the allotment gardeners from the province of Poznan and the national federation of Westphalia and Lippe took place. From this start a friendship developed, the 30th anniversary of which we are celebrating this year. Following an invitation of our Polish friends, a delegation of our national federation, under the leadership of President Wilhelm Spieß, visited the province of Great Poland/Poznan from 4th until 9th September, 2017.
Our host commemorated this special anniversary with a very varied program. Receptions at the town halls in Śrem, Czerwonak and Poznań were part of the program as well as visits of allotment sites. The historical highlight was the visit of the allotment site Przyłuskiego in Poznan, site on which the delegation from Westphalia-Lippe, first entered allotment garden ground on September 1987.
What have we realised together all over these years? What are the results of this partnership? Here some examples:
In 2012 the allotment gardeners from Poznan and Westphalia-Lippe signed a resolution together concerning the protection of allotment garden land and transmitted it to the Sejmmarschall.
Receptions organised by the mayors of the region of Poznan have always been more than simple exchanges of greetings. We have very often discussed with the communal politicians and representatives from authorities the missions of the communes as far as the local allotment garden movement is concerned.
Also, research and scientific missions have dealt with the allotment movement; especially with the aspects concerning town planning and ecology. Comparative research studies concerning the allotment movement in Poland and Germany are finally also a result of an active partnership with mutual visits including students and young scientists.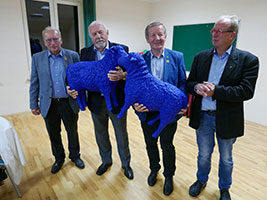 The common closing evening and the participation in the Thanksgiving celebrations were certainly unique highlights of our journey. As an expression of our relatedness yesterday, today and in the future, president Wilhelm Spieß and director Werner Heidemann presented the Polish allotment gardeners on behalf of the German delegation with two sheep of the herd of the Westphalian artist and 'blue shepherd' Rainer Bonk. The blue of the sheep represents the blue of the European flag. And as each one of us is unique and important, he can, however, only be strong in a union. That is the message of the blue sheep farming.
A third blue sheep grazes in front of the town hall of the town of Poznan. They all graze peacefully together.
Zdzislaw Sliwa, chairman of the Poznan federation gave a certificate to our chairman Wilhelm Spieß commemorating the 30th anniversary of our partnership.
Wherever we went, we were received with friendship and an open heart. This anniversary represents for us a thank you, a recognition and a stimulation. A thank you goes to those of you who laid down the foundation stone of this partnership and friendship. Recognition is due to all our friends in Poland and Germany who with hands and hearts contributed to the understanding and to the consolidation of this partnership and friendship.
We hope that motivation and incentive will grow out of this anniversary for the future, because partnership and friendship which are an important part of the understanding between people need care, discussions and common activities.
Werner Heidemann, director of the national federation of allotment gardeners from Westfalen-Lippe
The entire article can be read in the Fachberater Nr. 04/2017.
Important consequences of a passion to collect plants
An international team of researchers has recently warned again that the number of non resident species that propagate in nature are continuously increasing. A well known reason for this worldwide spreading of plants and animals since the 1950th is the globalization of commerce.
A largely unknown fact is that many invasive plant species had already started their journey to Europe during the 18th and 19th century: researchers travelling around the world brought their discoveries back from Asia and America and these plants were then cultivated with enthusiasm in parks and gardens. In this way the tree of heaven (Ailanthus altissima) originating from China already came to Europe around 1700. The Japanese knotweed (Fallopia japonica) was an appreciated ornamental plant during the Victorian age and was even awarded the gold medal as most interesting plant of the year in Utrecht in 1947. And in the past the giant hogweed (Heracleum mantegazzianum) was highly appreciated as plant for the garden.
In August 2016 the first regulation concerning invasive alien species of Union concern entered into force. This list is called "list of the European Union". It contains 37 animal and plant species. Among them 24 really live freely in nature in Germany. During this summer this European Union list should be completed by 12 additional species. Among them two ornamental plants of gardening importance: the giant rhumarb (Gunnera tinctoria) and the African crimson fountain grass (Pennisetum setaceum).
Gabriele Rautgundis RICHTER
Gartenfreund August 2017
www.gartenfreunde.de/gartenpraxis/gut-zu-wissen/sammelleidenschaft-mit-folgen
Make bees happy!
Federal competition: Call for a participation in step two
"More than half of our important pollinators are threatened to disappear. They increasingly lack food sources and living space". Together we should reconquered nature unfriendly grounds for our bees and for nature.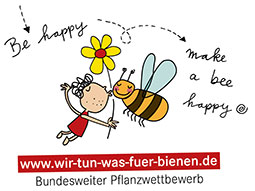 The competition started in 2016. A first call to take part in step one was made in October 2016.
The competition is organised in three steps. The "Herbstsummen" (autumn buzz) was replaced by the "Frühlingssummen" (spring buzz) beginning of April and in July will follow the "Sommersummen" (summer buzz). Nectar and pollen plants for native wild bees will be planted. You can find on the website www.wir-tun-was-fuer-bienen.de.whichever perennials, annual and also woody shrubs can be used. On this site you will also find all necessary information for a participation as well as other great tips and tricks for the planting campaign.
Dear allotment gardeners, now it is your turn! Look for some motivated participants. Change barren land into paradises for bees. Do initiate a project for bees. It is worth participating. There are numerous attractive prizes.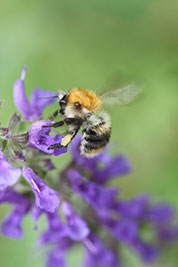 The participation is possible at any time. All kind of groups with their common activities can participate. The participants can publish their activity on the internet site www.wir-tun-was-fuer-bienen.de so that they can be made public and subsequently awarded a prize by a jury.
Registered groups taking part in the competition can get plants for free from LA'BIO! and from the foundation for men and environment seeds at reduced price by Rieger-Hofmann for their region. Prerequesites are bee-friendly and voluntary planting on (semi) public areas as kitas or school gardens, gardens of associations with public utility or communal grounds.
Thomas Wagner, BDG
So dear German allotment gardeners and as well as everyone else who feels motivated: Get ready to start and above all do continue. Dear European and Japanese allotment gardeners: Start similar activities/projects.