Important consequences of a passion to collect plants
An international team of researchers has recently warned again that the number of non resident species that propagate in nature are continuously increasing. A well known reason for this worldwide spreading of plants and animals since the 1950th is the globalization of commerce.
A largely unknown fact is that many invasive plant species had already started their journey to Europe during the 18th and 19th century: researchers travelling around the world brought their discoveries back from Asia and America and these plants were then cultivated with enthusiasm in parks and gardens. In this way the tree of heaven (Ailanthus altissima) originating from China already came to Europe around 1700. The Japanese knotweed (Fallopia japonica) was an appreciated ornamental plant during the Victorian age and was even awarded the gold medal as most interesting plant of the year in Utrecht in 1947. And in the past the giant hogweed (Heracleum mantegazzianum) was highly appreciated as plant for the garden.
In August 2016 the first regulation concerning invasive alien species of Union concern entered into force. This list is called "list of the European Union". It contains 37 animal and plant species. Among them 24 really live freely in nature in Germany. During this summer this European Union list should be completed by 12 additional species. Among them two ornamental plants of gardening importance: the giant rhumarb (Gunnera tinctoria) and the African crimson fountain grass (Pennisetum setaceum).
Gabriele Rautgundis RICHTER
Gartenfreund August 2017
www.gartenfreunde.de/gartenpraxis/gut-zu-wissen/sammelleidenschaft-mit-folgen
Make bees happy!
Federal competition: Call for a participation in step two
"More than half of our important pollinators are threatened to disappear. They increasingly lack food sources and living space". Together we should reconquered nature unfriendly grounds for our bees and for nature.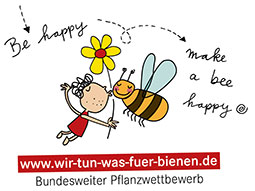 The competition started in 2016. A first call to take part in step one was made in October 2016.
The competition is organised in three steps. The "Herbstsummen" (autumn buzz) was replaced by the "Frühlingssummen" (spring buzz) beginning of April and in July will follow the "Sommersummen" (summer buzz). Nectar and pollen plants for native wild bees will be planted. You can find on the website www.wir-tun-was-fuer-bienen.de.whichever perennials, annual and also woody shrubs can be used. On this site you will also find all necessary information for a participation as well as other great tips and tricks for the planting campaign.
Dear allotment gardeners, now it is your turn! Look for some motivated participants. Change barren land into paradises for bees. Do initiate a project for bees. It is worth participating. There are numerous attractive prizes.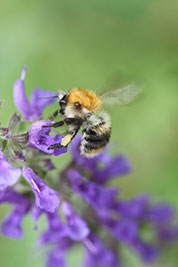 The participation is possible at any time. All kind of groups with their common activities can participate. The participants can publish their activity on the internet site www.wir-tun-was-fuer-bienen.de so that they can be made public and subsequently awarded a prize by a jury.
Registered groups taking part in the competition can get plants for free from LA'BIO! and from the foundation for men and environment seeds at reduced price by Rieger-Hofmann for their region. Prerequesites are bee-friendly and voluntary planting on (semi) public areas as kitas or school gardens, gardens of associations with public utility or communal grounds.
Thomas Wagner, BDG
So dear German allotment gardeners and as well as everyone else who feels motivated: Get ready to start and above all do continue. Dear European and Japanese allotment gardeners: Start similar activities/projects.
National Allotment Congress and Day of the Garden in Berlin
The fourth allotment congress took place in Berlin from 18-19 May, 2017.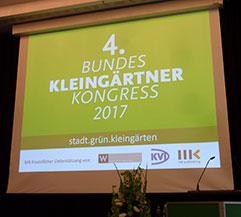 Approximately 300 delegates discussed the future challenges of the allotment movement.
A good number of prominent people attended. Among them State secretary Adler and the secretary general Malou Weirich who represented the International Office du Coin de Terre et des Jardins Familiaux.
2017 is an election year and thus a year for making political choices. The German Federation of Allotment Gardeners (BDG), an umbrella organisation under which some one million allotment gardeners are represented, is involved as well. It is campaigning for more greenbelts in urban areas and, obviously, for the preservation of allotments. The small gardens exert a positive influence on social cohesion in cities and communities. They help to perpetuate the gardening heritage and contribute to protecting and improving urban climates. They positively influence biodiversity both of nature in urban areas and cultivated plants. Allotments not only enhance the quality of life in cities and communities, they can also decisively improve the visual appearance of municipalities.
The German Allotment Federation is formulating the following requests to future politicians:
• Ensure the protection of allotments as greenbelt infrastructure: Maintain the federal allotment law in its tried and tested form.
• Promote the appropriate development of allotments by municipalities: Allotments must be explicitly included in urban development programs and in other future infrastructure development programs as potential targets for specific actions.
• With regard to future regulations in surface area adjustments and compensation: recognize allotment sites with an increased ecological value as compensation areas. Corresponding research and pilot projects should be stimulated by national policies.
Scientific prize of the German allotment federation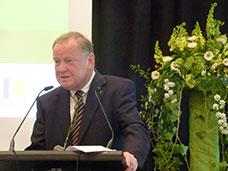 Peter Paschke was pleased to draw the attention to the scientific prize of the German allotment federation and to give so to speak the starting shot during this congress.
"The aim of this scientific prize is to lead towards a greater interest for scientific research concerning allotments among young scientists in the areas of urban, regional and landscape planning and to sensitize planners to the potential of allotments for green infrastructures.
The federation would like to reward ideas and innovative considerations including allotments in an exemplary way in projects concerning the safeguarding of the environment, the stabilization of social cohesion and consequently the quality of life in towns and communes. A particular concern of the federation is to reward dissertations and projects that are examples for the social and green development and contribute to a modern development of green infrastructures".
The official opening ceremony of the Day of the Garden was held on 20th May in the "Gardens of the World" of the International Horticulture Exposition (IGA).
The subject of the Day of the Garden was: "Allotments, a living green space for developing towns". As predecessors of the Urban Gardening movement the allotment gardeners with this day called attention to the necessity of green spaces in towns. A great number of the more than 14,000 allotment associations in Germany open their doors at the occasion of the Day of the Garden and enable all to discover the pleasure of these green areas. The allotments remain, especially for city dwellers, a refuge of an inestimable value: an allotment is not merely a garden, but it offers relaxation and compensation in a green space embedded in the middle of houses and streets.
After this opening ceremony, the allotment association "am Kienberg" received the Office diploma for ecological gardening from Office President Peter Paschke and the International Office secretary Malou Weirich.
These allotment gardens have around 400 members and were developed between 1983 and 1985.
The area covers around 10 hectares and includes 260 allotments. The average size of an allotment is between 350 to 450 m2.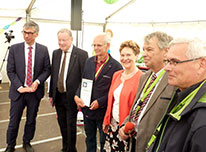 In recent years, the association's gardeners firmly decided to proceed with a way of gardening that does not use any toxic products.
Over the last three years, the number of fruit trees in the allotment garden were increased by around 300 ancient species of indigenous fruit trees and decorate the allotment garden site's paths and squares, of which a good number attract bees.
In the meantime, three of the allotment garden association's members have become beekeepers.
The allotment garden association and the members of the Marzahn-Hellersdorf community college invite local residents to take part in pruning lessons for the fruit trees. In this way the association's training activities in nature and the environment are shared with the Berlin population.
Educational nature trails and a number of nesting boxes have also been set up.
These are only a few of the activities organized by these allotment gardeners in the area of nature and environment protection.