Guided Tour on the Etterstad allotment site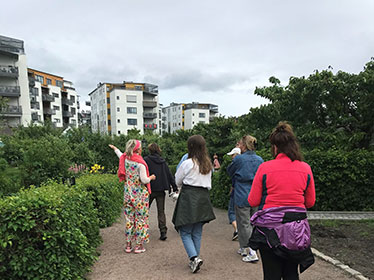 For many years Etterstad kolonihager has arranged guided tours in the garden. It is announced by flyers and on Facebook. Due to Covid it was a long time since a guided tour was arranged, but on June 22nd it was possible.
Etterstad is a small garden (88 cabins), and allowed only 20 people to attend for this event due to Covid (usually it is a lot of people attending). They were divided into 2 groups, guided by Kari and Hanne from the garden. The visitors were interested to know about the garden, about vegetables and fruit, about waiting lists and how life in a garden is. Some gardens were open for a closer visit, and also some of the cabins.
In one of the pictures you see a sculpture of Little My, a character from the book Mummitrollet by Finnish author Tove Jansson, the sculpture is made of one of the people in the garden.
Usually children from kindergartens are visiting every day, and before Covid groups from the elderly home in the neighbourhood come at least weekly for a chat and a coffee.
Photos: Liv Breines.
Feeding bees with perennial flowering meadows
How can allotment gardeners ensure a greater diversity of plants and insects?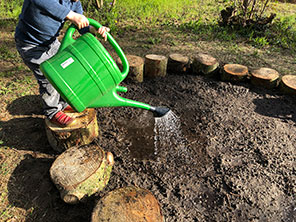 If you want to ensure an even greater diversity of plants and insects in your garden on a long term, you can still sow seeds this year from August to October. There are many flowering meadow mixtures. There are now hundreds of them. The decisive advantage of sowing perennial flowering meadows is that the mixtures mainly contain seeds for perennial plants, which can be sown both in spring and in late summer. The splendour of the flowers then lasts for years. This contrasts with annual mixtures, which are sown in spring, appear in full splendour the same year and then possibly lose their flowering power next year.
A sunny location in the garden which is rarely visited is ideal. After having found an area, which easily can exceed a few square meters, the soil should be cleared of overgrowth (1) and then prepared (in such a way) to get a fine crumbly soil structure (2). The seed mixture, which should mainly contain native species, is then sown evenly by hand on a windless and rain free day, lightly pressed down and then well watered (3). One to two grams of seeds are sufficient for an area of one square meter. The more humid and cooler weather in late summer makes it easier for the seeds to germinate and grow. However, if the weather is very dry, additional watering is needed in the first few weeks after sowing. In the next gardening year, the formerly barren area will have turned into a sea of flowers. For bees, bumblebees, butterflies and many other insects, wildflower meadows with native plant species offer an ideal source of pollen and nectar. To our benefit, the little pollinators will also provide a wide range of fruit, vegetables and flowers in our allotments.
Sandra von Rekowski, BDG
News from the Swedish Allotment garden Society
1) The Owl Scholarship 2021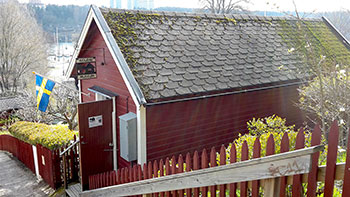 The Owl Scholarship 2021 from Studiefrämjandet (a study promotion organisation) in Sweden, goes to Eriksdalslundens Allotment garden museum, which receives an award for far-sighted public education in the nature and environmental area.
The museum shows, among other things, how allotment gardens contribute to biological diversity in the big city. And not least how garden enthusiasts can contribute to an increased diversity of insects, fungi, birds, animals and plants.
2) Planning Allotment gardens in Uruguay, European style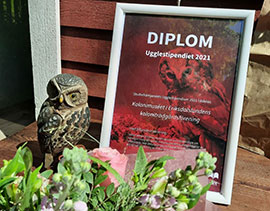 On June 2, the editor of Koloniträdgården's (Allotment garden) magazine in Sweden, Ulrika Flodin Furås, who is also an authorized Stockholm guide, walked with Uruguay's ambassador Santiago Wins in the allotment gardens in Tantolunden, Stockholm. "It was a fun and rewarding conversation", Ulrika says. In Uruguay, it is planned, on the initiative of the President's wife, to establish allotment gardens according to the European model. It is very exciting to be a part of this South American project, the Allotment garden society in Sweden thinks.
Allotment gardener's responsibility to support the authorities and scientific bodies
Example Switzerland: Plant Health Network Switzerland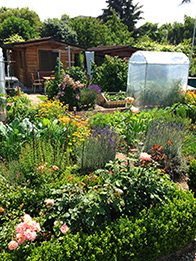 On 18th February 2021 the founding event of the "Plant Health Network Switzerland" took place; this in accordance with the prevailing circumstances as video-conference.
It had already become apparent during last year's cooperation between authorities and federations for the "International Year of Plant Health 2020" that the work had to continue.
Luckily, all the previous main partners of the Federal Plant Protection Service are also involved in the "Network" including of course the Swiss allotment federation SFGV/FSJF.
Other institutions and federations will certainly join soon. The cantonal experts from Ticino will play here a special role, as this continues to be the main gateway for pests.
Due to the nationwide spreading of our garden areas, our plant diversity and the intensive cultivation of grounds with fruit, berries and vegetables, we have a special responsibility to support the authorities and scientific bodies in the identification, reduction and control of pests.
Additional information:
https://www.blw.admin.ch/blw/en/home/nachhaltige-produktion/Pflanzengesundheit/ihrbeitrag/netzwerk.html
Otmar Halfmann
President of the Swiss allotment federation
Not only for German allotment gardeners!
BDG publishes position paper on the ecological upgrading of allotment gardens
The task of a precautionary and sustainability-oriented environmental policy is to maintain the functional capacity and efficiency of the resources soil, water and air to the full extent and to increase them if possible. This task concerns everyone and cannot be postponed with reference to global requirements and efforts. The "AG Fachberatung" has therefore drawn up a position paper that provides allotment gardeners with easy-to-implement measures that can be implemented in their own environment.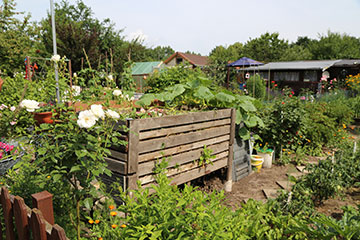 The paper contains, among other things, advice on cultivation in the allotment garden. Natural care and fertilisation of the soil for the sustainable preservation of the natural soil layers and targeted fertilisation without chemicals play an important role. Measures such as the application of green manure plants and natural mulch serve to promote soil life, which in turn provides valuable humus and supplies the soil with nutrients in a natural way. Composting also supports the natural cycle economy in the allotment garden, provides the soil with important plant nutrients, revitalises the soil and improves the water supply. Another key to success in vegetable cultivation, apart from an adapted crop rotation, is the selection of robust and hardy varieties as well as an ideal crop rotation concept. Since it is much easier to live with pests and diseases in an allotment garden than in commercial cultivation, plant protection products should be avoided altogether.
But not only horticultural aspects are the topic. There is also an appeal to the moral obligation of one's own actions. Peat-free gardening, for example, is an important contribution to the protection of peatlands and the climate. Therefore, gardeners should only use peat-free growing cultivation substrates.
The German allotment federation's (BDG) "AG Fachberatung" is an association of people who are committed to providing expert advice on allotment garden sites within their national federation and who support the federal federation in terms of expert advice. The position paper "Measures for the ecological upgrading of allotment gardens" aims above all at a permanent and area-wide implementation of the measures, the realisation of which will enable each of the approximately 5 million allotment garden users nationwide to make a decisive contribution to the protection of natural habitats and the environmentally sound management of allotment gardens.
The complete position paper is available at
https://kleingarten-bund.de/de/bundesverband/positionspapiere/
Sandra von Rekowski, BDG
Photo: T. Wagner