The XXVI Congress in Finland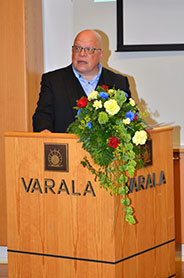 The Federation of Finnish Allotment Gardens held its four-yearly Congress in Tampere 5th-6th August 2017.
One of the congress delegates and continuing member of the Executive Board, Ms. Marjukka Metsola from the northernmost allotment garden in the world in Rovaniemi, summarised the Congress on the Finnish Federation's Facebook-page: "Lively discussions, several views. Finally we made the important desicions. Democracy works!"
Mr. Pertti Laitila re-elected as President
The Congress unanimously re-elected Mr. Pertti Laitila as President of the Finnish Federation.
Pertti was elected President in the previous Congress in Forssa in 2013. Before that he had been a member of the Executive Board in 2010-2013. Pertti is an experienced allotment gardener. He has been a member of the association Nekalan Siirtolapuutarhayhdistys in Tampere since 1995 and actively taken part in the administration of the association since 1996.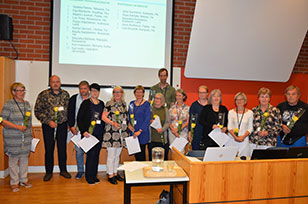 The Executive Board
The newly elected Executive Board represents 37 % of the Federation's member associations and the geographical representativeness is excellent.
The first meeting of the new Executive Board will take place on September 5th. In that meeting the Board will appoint the two new Vice-Presidents, the new Management Committee and various working groups.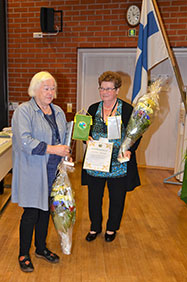 Two new Honorary Members
The Congress called two new Honorary Members:
Leena Heino from Tampere is the Honorary President of her association Litukan Siirtolapuutarhayhdistys. She has been working for the improvement of allotment gardening in her own association, on a regional basis and also nationwide.
Liisa Vasama from Helsinki was the President of the Finnish Federation in 2001-2009. During her presidency Liisa actively improved the Federation and many allotment gardeners remember her sympathetic editorials in the Federation's magazine. Liisa Vasama is also highly respected internationally.