Nest boxes
At the beginning of the year we were alerted by the results of a European study which noticed the very sharp decrease in the number of birds, especially of sparrows, around inhabited places. There are several reasons for this situation. On one hand, the disappearance of a large number of suitable nesting sites and, on the other hand, the reduction of the available prey volume, as a result of agricultural practices and the use of insecticides.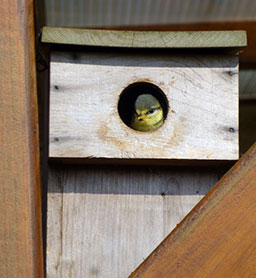 On our allotment sites and on our plots, though modestly, we can act on both of these factors. First, by installing nest boxes, then, second, by making sure that, there is a well-stocked natural pantry all around.
Before setting up a nest box, you must choose a place that best guarantees the, safety both of the brood, and the parents who look after it. In our gardens there can be wild predators as, for example, beech martens or weasels. Above all, however, there are cats. It might be wild cats or cats with owners, filled bowls and soft cushions, but who, as soon as they leave the home of their master, go hunting. Recent studies show not only that this expedition is much longer than previously estimated, but also that the cats found were often not the ones expected.
So, watch out for anything that can be used as a footstool, hiding place or perch for cats.
For the same reasons a nest box must be very strongly and securely fixed. It must resist all weather conditions and possible unwanted solicitations, as for example, from magpies and crows in particular. The presence of a few bushy shrubs will allow the young birds to go to safety when they leave the nest for the first time.
For a nest box to function, it must comply with a certain number of constraints: it must be adapted to the nesting sites needed by those species of birds present on the site or for those you want to attract.
One of the most important elements is the diameter of the flight hole. For small birds (blue tit, crested tit, marsh tit, coal tit) and tree sparrow it should be 26 to 28 mm. For birds a little bit bigger, like the tit or the red tail white face, it should be 32 to 34 mm. The distance between the base of the flight hole and the bottom of the nest box must be at least 17 cm, so that the young birds remain out of the predators' reach.
Inside the nest box at least one of the boards must be sufficiently rough, so that the nestlings can cling to it to climb and leave the nest. Do not hesitate to "rework" it with a chisel if necessary.
Here are the dimensions of the different elements for a simple nest box, which can be cut from a board of 2 meters long, 180 mm wide and 20 mm thick: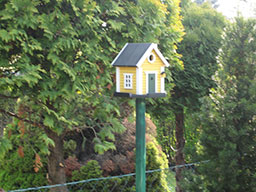 Roof: 180 x 220 mm
Base: 120 x 140 mm
Back: 120 x 270 mm
Front: 120 250 mm
Sides: 270 x 180 mm
To accommodate other species of birds, different types of nest boxes can be integrated during the construction of a garden shed. In the North of France, we still can find "sparrow pots" that work very well. That's all for the shelter. Let's now go to the table.
Herethe strict application of the allotment gardens rules established by the Fédération nationale des Jardins Familiaux et collectifs (French allotment garden federation) finds its full justification.
In order for young birds, as well as the gardener's children, to receive a healthy and sufficient diet, the use of any chemical product and insecticide must be permanently banned. These products are considered as being insectivores so you must leave them their prey at least during the feeding period of the young. They take extremely well care of them. It is rare for cabbage white butterfly caterpillars to fully develop in a garden with a busy nest box. And it is the same for many insects.
In addition, the mulching of crops and a few piles of decaying plants in the corner also bring prey in large number.
Remember to have a bowl with clean water near the nest box. If the bowl is large, always leave a bundle of wood that will serve as a perch and will prevent drowning.
New nest boxes must be installed in early winter. The existing nest boxes that have already been used, have to be cleaned and disinfected before they are put back into place at the same time in early winter...
If you want to get started with the installation of nesting boxes at a large-scale, it is absolutely necessary to get into contact with the bird protection league, which has up-to-date information and scientifically validated technical data.
Serge Ratié
I just got a plot, how to get started?
What has to be done?
You join an allotment garden group. Normally your plot was already cultivated by a gardener before you. If you are new to gardening, your immediate neighbours will be able to tell you about the persistent plans, which are already in the garden. There may already be aromatic plants (thyme, mint) or others such as sorrel and rhubarb, flowers and other plants that you do not yet know. These gardeners can help you while getting started in the garden. They will make you benefit from their experience and knowledge.
Go and see them, observe their gardens, listen to their advice, ask questions, both about gardening, but also about the functioning of the allotment garden group that welcomes you.
Gardening is not a sprint, but a long distant race. In the garden one has to respect the cycle of nature, the four seasons. Remember that you are going to garden for a whole year, on a continuous rhythm and if possible, without jolts. Plan your work and limit the periods of hard work according to your abilities. If you love and respect nature, your work will be easier. Otherwise, watch out for back pain, body aches and blisters.
For gardening you do not need complex tools, a fork (grelinette) to loosen the soil, a claw to break the clods and a rake to level the ground. Buy high quality tools, good and solid. It is better to have less of them than many fragile and useless tools. They will accompany you for many years, allowing you to work while respecting the structure of the soil.  
Normally when you arrive in the winter season, this is the correct time to prepare the ground. The ground is often covered with grass. This vegetation is detrimental to the next harvests and has to be removed and composted. It will be later used to feed the plants. Herbs with tough roots (bind weed and quack grass for example) are not to be put to the composter as such. Let them dry in a corner of the garden.
Regular work with a fork (grelinette) will allow you to obtain a favourable support for a quick growing of your fruit and vegetables. Your plot should not remain uncovered for a long time before putting in the seeds or the plants. Think of mulching and green manures that will prevent leaching and soil compaction. A few weeks later, before planting, it will be sufficient to crush the plant cover and introduce it into the soil. You will then have a soil with enriched nutrition for your future vegetables. Do not wait for spring and sunny days to do all this, your land must be ready to welcome your seedling at the right time. They must not be in competition with unwanted plants that, well established, will have the upper hand when your vegetables want to grow.
Even if the weather is cloudy, a passage in the garden is necessary for two reasons:
•      It is better to work a little bit from time to time, than to try to do everything in one day.
•      You should meet your neighbours, observe your garden regularly, watch the evolution of nature and the rain level, check the general condition of the equipment, clean them etc.
In short acquire good habits that will then facilitate your gardener's life.
In the garden, the secret of success is the right plant, put in the right place at the right time and grown in good conditions.
This you should not do.
•      Buy plants or seeds that are not adapted to the region or are of poor quality,
•      Not respect the good exposure in the garden plot (sun of shade),
•      Sow too early in the season (a too low temperature for germination or frost will damage the plants),
•      Sow too late (cycle too short to harvest),
•      Not to work the plot enough (unwanted weeds, compact soil that prevents normal growth),
•      Water too little (difficult recovery of the plants) or on the contrary water in excess (diseases, wastefulness),
•      Not to regularly monitor garden crops (hoeing, pruning, observation of diseases and pests).
In the kitchen garden do not forget the floral part that allows the welcoming of auxiliaries and useful insects (as for example pollinators and predators of pest) but also provides well-being and pleasant sensations. Leave a little bit of nature, but also associate some plants which each other.
All this you can discover from your garden friends, but also by reading regularly the national allotment reviews.
Olivier Guérin & Jean-Claude Férail
No to bare soil, yes to covering!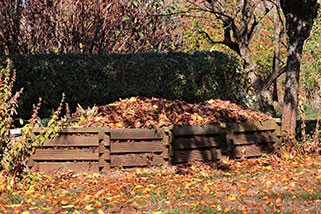 Summer is over, nearly everything has been harvested. It won't be long before the last potatoes will rejoin the darkness in the shelter. And what will happen to the soil? If we haven't been/aren't careful, over time it has/will become bare. So we must act to protect it, to nourish the micro-organisms, to make up for the loss of nutrients taken from past growth, to avoid leaching and soil impacts from the upcoming bad weather. How can we do this over the course of harvests?
Several possible interventions:
• The waste from current plants after possible crushing, e.g. beetroot leaves, leeks, chicory (but not the bits of roots as they grow back)… anything that does not show any sign of disease. Add a few dead leaves or other shreds, exactly as you would for composting: this is called ground compost, which will form the soil for the following season.
• In the same pattern of thought, cover your soil with a mixed bed of turf and dry leaves shredded with a lawnmower, shreddings of different sizes, washed and desalinated seaweed if available…
• Plant "green manure": this name is given to a plant grown to not leave the soil bare or invaded by weeds. These species (rye, phacelia, clover, mustard…) will not be harvested but reintegrated into the soil's surface in spring, after shredding, in order to improve its structure and enrich its humus.
You can then plant vegetables greedy on organic material: courgettes, potatoes, tomatoes… Leave the vegetation in place over winter. Even if it is killed by the cold or continues to grow, it will form a protective barrier for the soil.
Bare soil becomes impoverished, other soil gets richer. Mushroom filaments that sheathe roots, called mycorrhizae, risk disappearing in winter, even though they multiply by 20-25 times the surface in contact with roots and allow certain elements to be better absorbed and reinforce plant defence systems. In nature, mature plants are strewn across the soil, leaves fall and protect it all, slowly decomposing and fertilizing it. It is nature's cycle that we reproduce.
Josette Marmoret
What can be sown at the end of summer?
Green manure helps with crop rotation. You should avoid growing consecutively plants of the same botanical family: near radishes, no cabbage, or turnip, or rocket… not even mustard, or rapeseed as it is part of the same family, the Brassicas. Fabaceae (clover, vetch, pea, bean…) store nitrogen from the air in their roots and pass it onto vegetables grown after them. They therefore precede plants greedy of nitrogen. Phacelia, buckwheat, spinach, rye, oat are important as the vegetables in their family are unusual.
From the end of August to mid-September, choose from: crimson clover, lucerne, bean, rye, phacelia, mustard, oat, according to your garden plan:… for next year!