Congratulations - President of National Allotment Society, Great-Britain, awarded British Empire Medal.
Her Majesty the Queen graciously approved that Philip Gomersall of Rawdon be awarded a British Empire Medal (BEM) for services to Horticulture in Yorkshire in the Birthday Honours List 2018.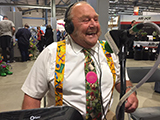 Phil Gomersall has many roles in the allotment world from President of the National Allotment Society, Chairman of the Yorkshire Allotment Gardeners Federation, Publicity Officer of the Leeds Allotments Federation and Secretary of Victory Garden Allotments Association, Rawdon. He also represents the English allotment gardeners in the International Office du Coin de Terre et des Jardins Familiaux.
He has promoted and advised on the many benefits that allotment gardening has to offer, over many years, and is a very hard working hands on and quite jovial kind of person.
He was instrumental in the creation of many allotment show gardens at the Harrogate Flower Shows, Great Yorkshire Show and even Chelsea.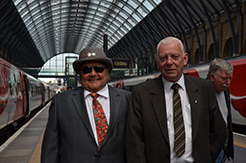 In addition to the above, he is also the Vice Chairman of Rawdon in Bloom, an organisation improving the local environment where he lives.
Phil Gomersall says: "there are many others like him promoting and advising on allotment gardening up and down the country but his approach may be slightly different and have a little more gusto and bravado in promotion of the many benefits of allotment gardening".
He is immensely proud to be awarded the medal and is still reeling from the news, but never the less was still out planting up planters, in his village of Rawdon, the following morning.
Leeds allotment federation: going from strength to strength...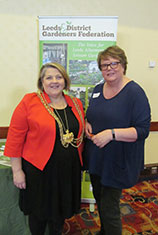 Following last year's very successful "Learning Day" put on for all allotment gardeners in Leeds by the Leeds Allotment Federation in conjunction with Leeds City Council Parks Dept. another event has been arranged for 24th March 2018.
From putting out the advertising poster for this year's event all 150 places were taken up within a fortnight.
The day itself consisted of coffee at 10.00 a.m. on arrival and the opening was by Cllr Jane Dowson, the Lord Mayor of Leeds.
Then two sessions of the six workshops took place.
This was followed by Andrew Tokely, Director of Kings Seeds giving a talk and demonstration on sowing seeds and getting best germination results.
There was a free..! Lunch followed by a further two sessions of the six workshops.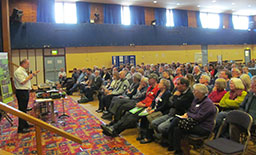 There was an impressive array of workshops.
• Caring for fruit trees - Alan Thornton, The Orchard Project
• Composting - John Cossham, Master Composter
• Pest Control on allotments - Alan Masterton, LCC Pest Control Manager
• Growing Vegetables - David Allison, National Vegetable Society
• Grants for Allotments - David Ball, Community Matters
• Plate 2 Plate, compost from food bins - Mark Warner
Finally there were an evaluation session and closing remarks finishing at 3pm.
Take up for the event has been so great we are now looking at arranging another event for September.
Connections, partnerships... Not quite allotments but still horticulture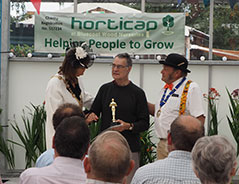 I have had a connection with a local Horticultural Charity called Horticap at Bluecoat Wood Nursery, Harrogate, which caters for people with learning difficulties. Their larger than life! (see later) Assistant Manager, Phil Airey and I have become quite good friends over the years, both manning stands at the large and prestigious Flower and Agricultural Shows at Harrogate and have become commonly known as Big Phil and Little Phil.
He invited me to attend their B-B-Q and Awards Evening and to present some of the awards in my new role of President of the NAS. I felt very thrilled and honoured to be asked and immediately accepted.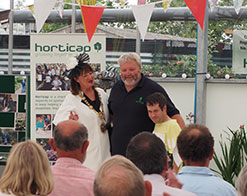 I know many of the students from their involvement in the shows and from calling in to the nursery if ever I am passing. It is a wonderful positive place to visit.
The Lady Mayor of Harrogate was in attendance to present the in house certificates which are awarded for all types of work carried out. Potting plants, making hanging baskets and wreaths, work in the café and shop and many more on site jobs. There are also certificates presented for the many tasks students do in their contract works carried out off site.
I felt very honoured to be presenting NVQ certificates in horticulture to some of the students, who had gained them through the local Shipley College. This was the first year they had acquired external qualifications.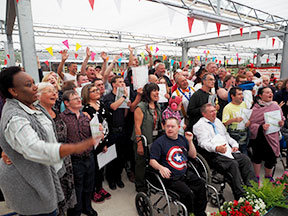 Finally I was to present the Alan Titmarsh (the charities patron) 'Award of Distinction' to David Rawcliffe for his long and outstanding service looking after the gardens at Bluecoat Wood Nursery.
What a wonderful evening, what a wonderful atmosphere and what a surprise for Phil Airey; his students had only got together and presented him with a certificate 'The Larger than Life Award'. It just demonstrated what a wonderful relationship there is between staff and students. The evening came to a close with a group photo set up by the photographer for the Harrogate Press.
Phil Gomersall, President