Leeds allotment federation: going from strength to strength...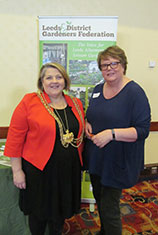 Following last year's very successful "Learning Day" put on for all allotment gardeners in Leeds by the Leeds Allotment Federation in conjunction with Leeds City Council Parks Dept. another event has been arranged for 24th March 2018.
From putting out the advertising poster for this year's event all 150 places were taken up within a fortnight.
The day itself consisted of coffee at 10.00 a.m. on arrival and the opening was by Cllr Jane Dowson, the Lord Mayor of Leeds.
Then two sessions of the six workshops took place.
This was followed by Andrew Tokely, Director of Kings Seeds giving a talk and demonstration on sowing seeds and getting best germination results.
There was a free..! Lunch followed by a further two sessions of the six workshops.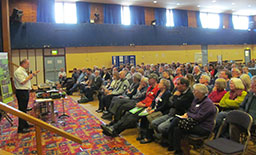 There was an impressive array of workshops.
• Caring for fruit trees - Alan Thornton, The Orchard Project
• Composting - John Cossham, Master Composter
• Pest Control on allotments - Alan Masterton, LCC Pest Control Manager
• Growing Vegetables - David Allison, National Vegetable Society
• Grants for Allotments - David Ball, Community Matters
• Plate 2 Plate, compost from food bins - Mark Warner
Finally there were an evaluation session and closing remarks finishing at 3pm.
Take up for the event has been so great we are now looking at arranging another event for September.
Connections, partnerships... Not quite allotments but still horticulture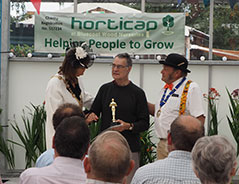 I have had a connection with a local Horticultural Charity called Horticap at Bluecoat Wood Nursery, Harrogate, which caters for people with learning difficulties. Their larger than life! (see later) Assistant Manager, Phil Airey and I have become quite good friends over the years, both manning stands at the large and prestigious Flower and Agricultural Shows at Harrogate and have become commonly known as Big Phil and Little Phil.
He invited me to attend their B-B-Q and Awards Evening and to present some of the awards in my new role of President of the NAS. I felt very thrilled and honoured to be asked and immediately accepted.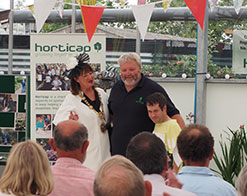 I know many of the students from their involvement in the shows and from calling in to the nursery if ever I am passing. It is a wonderful positive place to visit.
The Lady Mayor of Harrogate was in attendance to present the in house certificates which are awarded for all types of work carried out. Potting plants, making hanging baskets and wreaths, work in the café and shop and many more on site jobs. There are also certificates presented for the many tasks students do in their contract works carried out off site.
I felt very honoured to be presenting NVQ certificates in horticulture to some of the students, who had gained them through the local Shipley College. This was the first year they had acquired external qualifications.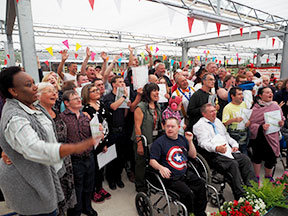 Finally I was to present the Alan Titmarsh (the charities patron) 'Award of Distinction' to David Rawcliffe for his long and outstanding service looking after the gardens at Bluecoat Wood Nursery.
What a wonderful evening, what a wonderful atmosphere and what a surprise for Phil Airey; his students had only got together and presented him with a certificate 'The Larger than Life Award'. It just demonstrated what a wonderful relationship there is between staff and students. The evening came to a close with a group photo set up by the photographer for the Harrogate Press.
Phil Gomersall, President
Focus on allotments
Smaller but still productive Allotment Stand at Harrogate Spring Flower Show 20th – 23rd April 2017 (Great-Britain)
Following a bout of illness after all the very strenuous Allotment Show Garden successes last year I have decided to restrict myself to leaflet stands and just helping with the creation of Allotment Show Gardens when necessary.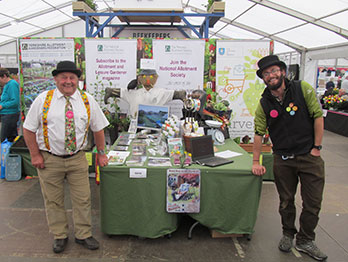 So this year I simply produced a decorated leaflet stand for the promotion of Allotments at the Harrogate Spring Flower Show under the banner of Yorkshire Allotment Gardeners Federation and the National Allotment Society. There was also planting of seeds provided for the children. I also invited MyHarvest project Based at Sheffield University to join us, a project which could prove very beneficial to our allotment movement. They sent a team of volunteers to man their part of the stand which complimented the volunteers from YAGF. Their administrator Roscoe Blevins was a natural showman and fit right in to my rather extravert approach to the promotion of allotments. The combined stand worked extremely well as we could refer punters to both sides of the stand. The project collected details from many prospective participants.
And that was not all...
Busy time at Harrogate Spring Flower Show
In addition to erecting the Allotment promotion stand and manning it for the duration of the show, I was once again asked to do talks with Martin Walker, the creator of many of the Leeds City Council show gardens at Chelsea. The talks took place on the Kitchen Garden Magazine stage every morning. Martin and I are like chalk and cheese. He can refer to his professional horticultural expertise and I refer to very down to earth gardening on a shoestring with lots of props on display such as concrete reinforcing mesh for plant supports, scaffold debris netting for plant protection, plastic water pipe to make cloches and much more and all put together with quite a bit of Yorkshire humour and not forgetting the added comments about the benefits of allotment gardening. It seems to work very well with audiences standing in the aisles; so we must be doing something right.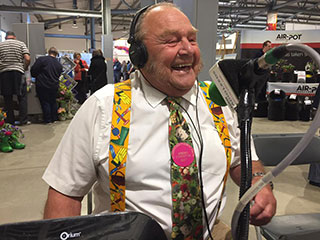 On the Sunday morning I was called for a radio interview on the Radio Leeds, Tim & Graham Gardening Show. I have had some quite humorous interviews with these two about allotments before, in their studio, but this was being held in the corner of one of the flower halls. It was primarily about the promotion of allotments at the show and the MyHarvest involvement in the show and again it developed into a quite jovial chat with some light hearted banter. It was all good fun, but getting the message across about the promotion, protection and preservation of allotments and all the benefits they can offer.
Plans for the future
I am hoping to do another allotment promotional stand with MyHarvest at the Great Yorkshire Show, Tuesday 11th – Thursday 13th July again under the banner of the YAGF and the NAS.
Phil Gomersall