European Local Democracy Week 2017, 9th - 15th October 2017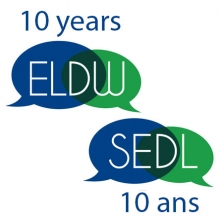 "Launched in 2007 to foster citizen participation and promote democracy at the level closest to the citizens, the European Local Democracy Week (ELDW) celebrates its 10th anniversary this year – officially between 9 and 15 October 2017. On this special occasion, local and regional authorities of Europe and their associations are encouraged to organise participatory events to celebrate local democracy, as a shared value across the European continent.
More than 1000 local authorities and their associations from the 47 Council of Europe member states and beyond have participated in this pan-European voluntary initiative since its creation, having organised a large variety of activities to meet and engage with their citizens…….."
The subject for 2017 is: Citizen participation, consultation and commitment: for a thriving local democracy.
The Office International du Coin de Terre et des Jardins Familiaux took part in 2015 and 2016. Again this Year it chose 3 meriting examples, the description of which you can read below.
pdf file
Study session in Copenhagen
From 24th August until 27th August 2017 the delegates of the allotment gardeners met in Copenhagen in order to discuss the future of the international allotment movement and to well position it while taking into consideration the current situation and surroundings.
The Office grants every year diplomas for an ecological gardening, for social activities or innovative projects.
In 2017 already two diplomas for ecological gardening and one diploma for social activities were granted to allotment associations.
In Copenhagen three additional associations were rewarded with diplomas for ecological gardening.
- The association "Mariahoeve" from den Haag (NL)
- The allotment association "Eigen Hof" in Amsterdam (NL)
- The allotment association "Zonder Werken Niets" in Haarlem (NL)
You'll find the motivation and the description of the projects in the joined appendices.
pdf file
Cost Action: "Urban Allotments in European Cities"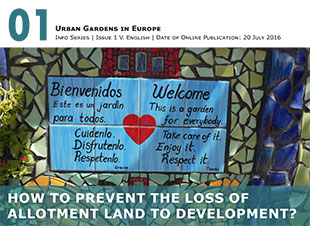 This Cost-Action took place over 4 years from 2012 – 2016. (The final event was organized in Basel from September 8th until 10th 2016 see news from 27th September 2016).
In addition to the book: "Urban Allotment gardens in Europe" 14 factsheets were published for allotment gardeners, authorities and other stakeholders.
As appendix you find these factsheets, which have already been forwarded to all the national federations.
For other languages see: http://www.urbanallotments.eu/fact-sheets.html
1. HOW TO PREVENT THE LOSS OF ALLOTMENT LAND TO DEVELOPMENT?

(download)
2. HOW TO STRENGTHEN THE SIGNIFICANCE OF URBAN GARDENS IN THE CITY?

(download)
3. WHERE ELSE CAN YOU GROW IF YOU CANNOT FIND AN ALLOTMENT?

(download)
4. HOW TO SET UP A GARDEN (AND KEEP IT GOING)?

(download)
5. HOW TO TAKE INTO ACCOUNT GARDENERS' MOTIVATIONS INTO URBAN GARDEN PLANNING?

(download)
6. HOW TO MAKE YOUR URBAN GARDEN YOUR OWN PLACE ?

(download)
7. HOW TO DEVELOP URBAN GARDENS AS LEARNING SPACES?

(download)
8. WHAT IS A GOOD LOCATION FROM AN ENVIRONMENTAL PERSPECTIVE?

(download)
9. HOW TO ENHANCE BIODIVERSITY IN URBAN ALLOTMENT GARDENS?

(download)
10. HOW TO IMPROVE THE YIELD AND WHY IS IT IMPORTANT?

(download)
11. THE CONTRIBUTION OF URBAN ALLOTMENT GARDENS TO ECOSYSTEM SERVICES.

(download)
12. HOW TO IMPROVE WATER MANAGEMENT IN URBAN ALLOTMENT GARDENS?

(download)
13. DO I NEED DESIGN SUPPORT FOR MY GARDEN?

(download)
14. HOW TO AVOID RISKS ASSOCIATED WITH URBAN GROWN FOOD?

(download)
external link