Cost Action: "Urban Allotments in European Cities"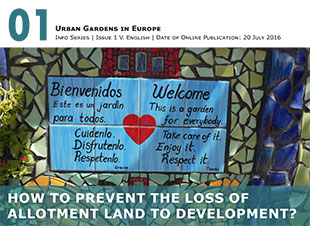 This Cost-Action took place over 4 years from 2012 – 2016. (The final event was organized in Basel from September 8th until 10th 2016 see news from 27th September 2016).
In addition to the book: "Urban Allotment gardens in Europe" 14 factsheets were published for allotment gardeners, authorities and other stakeholders.
As appendix you find these factsheets, which have already been forwarded to all the national federations.
For other languages see: http://www.urbanallotments.eu/fact-sheets.html
1. HOW TO PREVENT THE LOSS OF ALLOTMENT LAND TO DEVELOPMENT?

(download)
2. HOW TO STRENGTHEN THE SIGNIFICANCE OF URBAN GARDENS IN THE CITY?

(download)
3. WHERE ELSE CAN YOU GROW IF YOU CANNOT FIND AN ALLOTMENT?

(download)
4. HOW TO SET UP A GARDEN (AND KEEP IT GOING)?

(download)
5. HOW TO TAKE INTO ACCOUNT GARDENERS' MOTIVATIONS INTO URBAN GARDEN PLANNING?

(download)
6. HOW TO MAKE YOUR URBAN GARDEN YOUR OWN PLACE ?

(download)
7. HOW TO DEVELOP URBAN GARDENS AS LEARNING SPACES?

(download)
8. WHAT IS A GOOD LOCATION FROM AN ENVIRONMENTAL PERSPECTIVE?

(download)
9. HOW TO ENHANCE BIODIVERSITY IN URBAN ALLOTMENT GARDENS?

(download)
10. HOW TO IMPROVE THE YIELD AND WHY IS IT IMPORTANT?

(download)
11. THE CONTRIBUTION OF URBAN ALLOTMENT GARDENS TO ECOSYSTEM SERVICES.

(download)
12. HOW TO IMPROVE WATER MANAGEMENT IN URBAN ALLOTMENT GARDENS?

(download)
13. DO I NEED DESIGN SUPPORT FOR MY GARDEN?

(download)
14. HOW TO AVOID RISKS ASSOCIATED WITH URBAN GROWN FOOD?

(download)
external link
The Office International du Coin de Terre et des Jardins Familiaux and the affiliated federations call upon all allotment gardeners to take part in the Week without pesticides organized from 20th till 30th March 2017

In the beginning pesticides looked to be like a blessing from heaven. They had the ability to kill unwanted, dangerous and irritating insects. And with simple devices they could be sprayed on or being blown to places, plants, objects or bodies where this seemed to be useful.
After the Second World War DDT did a magnificent job and soon it became very popular. In every grocery store it was available so not only professional agriculture, but nearly every household used it for getting rid of unwanted insects.
After some time it became clear that there were unwanted side effects. It not only effectively killed damage giving insects but useful insects as well. And even worse its remains were spread in nature and finally it became stored in the bodies of animals, doing its killing or damaging work more effectively than anybody had envisioned.
The manufacturer came twice with first a second and thereafter with a third generation product: deldrin and aldrin. These should not have the unwanted side effects of DDT. In reality they were even worse.
With her book "Silent Spring" Rachel Carson showed the world the devastating effects of the large scale use of these products.
Some forerunners banned their use, but the industry continued bringing new products to the market, always suggesting that safe use was possible. The world has seen the effects on humans of the lavishly use of "Agent Orange" in the Vietnam War. Several components of this product have been used by local governments and agriculture, even when they were not allowed by the Food and Drugs administration in the USA.
This sad story continues. Every time again the industry introduces new products, claiming their use is safe and does not have unwanted side effects.
There are strong indications that a widely available herbicide can give damage to our bodies. Other wide spread products not only seem to kill useful honeybees but also as useful wild bees, wasps and flies.
So these are all reasons to participate in the week against pesticides and make people aware of the danger in order to diminish the use of and in many cases introduce a ban on the use of these far from innocent pesticides. You don't need to wait until National or European governmental organisations finally take responsibility.
You can take responsibility yourself. Save the honeybees, prevent chemicals from hidden long term killing and poisoning of living, interesting, beautiful and valuable creatures.
Therefore not only participate in the week of pesticides, but make an end to their unwanted application. Use organic fertilizers such as compost, apply crop rotation, use companion plants etc
Information on http://www.semaine-sans-pesticides.com
pdf file
The International Office du Coin de Terre et des Jardins familiaux delegates met in Luxembourg
On March 3rd and 4th 2017 the national delegates met in Luxembourg for their annual statutory general assembly.
With great pleasure they acknowledged that the Luxembourgish minister for environment protection had granted a substantial financial support for the publication of the Office brochure: "Allotments – discover nature with children" and thank her very much.
They also thank the firm Mayerhofer and especially Friedrich Hauk for the important financial support for the publication of the brochure.
Five demands for diplomas were submitted. The diplomas will be granted at the occasion of the international study session in Copenhagen. The receiving of a diploma is a great recognition for the association's efforts and is additionally a great means for lobbying.
It was also decided to grant the diploma for an ecological gardening to the allotment association "am Kienberg" (Germany). The diploma will be given to the association in Berlin on 20th May 2017 at the occasion of the Day of the Garden.
Besides the statutory tasks, the report and discussions on positive or negative national events, the delegates discussed intensively the subject: "Allotment gardens and Community gardens", as well as "the future of the allotment movement".
The elaboration of guidelines for gardening advice will be continued in a working group.
It was decided to optimize the forum for gardening advisers in order to guarantee its success. Therefore the access to a greater number of interest people should be made possible.
Since 4th March 2017 the Office appears on Facebook in order to be more and better visible.
www.facebook.com/OfficeInternationalJardinsFamiliaux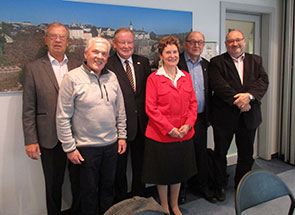 During the statutory meeting the members of the executive board for the next four years were elected. Daniel CAZANOVE (F), Otmar HOFFMANN (L), Preben JACOBSEN (DK), Peter PASCHKE (D) and Wilhelm WOHATSCHEK (A).
During the first executive board meeting following this election Wilhelm WOHATSCHEK was once more elected as president.
The delegates will meet again in Copenhagen on coming 24th August during their study session.
The next statutory general assembly will take place in Luxembourg on February 23rd and 24th February 2018.
pdf file