Allotment sites are worth a visit. Here some examples.
The Luxembourgian Allotment Gardens
Allotment association Matgesfeld
The "Amis de la fleur Belvaux" manage 28 plots laid out by the local authorities of Sanem in 2017. People garden here without pesticides. 6 plots are school gardens. On one plot you find a raised bed accessible in a wheel chair.
The private not fenced plots are surrounded by common green spaces with benches, space for a barbecue, compost area, tool shed, water pumps and dry toilet.
The open structure enables the exchange of experiences and stimulates intercultural activities.
adress: Matgesfeld, Parking Cemetery
L-4443 Belvaux
e-mail: David.Hengen@sanem.lu
Allotment association Merl-Belair, site Alfred Thinnes
This allotment site with a total surface of 8,500 sqm and unifying 58 plots is an integral part of the green spaces of the city. The site is surrounded by an orchard, an area with late mowing and beehives under the acacias
In 2014, after many years of practice, the allotment site was declared as "site without
pesticides" and participates in this way in the general green space policy of the town of Luxembourg in order to promote the local biodiversity.
In 2015 the site received the Office diploma for ecological gardening.
adress: 38B rue des Celtes
L-1318 Luxembourg
e-mail: merelabelair.ctf @gmail.com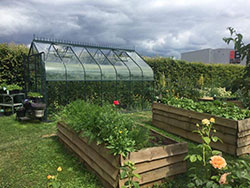 A private garden in Ellingen
The Luxembourgish federation unifies allotment sites and owners of private gardens. Some private gardens can be visited on appointment,
This privately owned garden of 10 ares is surrounded by a hedge of beeches. One half is covered by lawn and fruit trees, in the other half you find a kitchen garden, raised beds, shed and a small pond.
adress: Mad. Wies Maggy
6, rue du Lavoir
L-5690 Ellange
e-mail: paintflowers@hotmail.com